The flow of water through well-defined channels is known as "Drainage" and the network of such channels is called a "Drainage System". The drainage pattern of an area is the outcome of the geological time period, nature and structure of rocks, topography, slope, amount of water flow and periodicity of the flow.
Drainage Basin – An area drained by a river and its tributaries is called a drainage basin. For ex – UP, Bihar, West Bengal etc are the drainage basins of the river Ganga.
Watershed – The boundary line separating one drainage basin from other is known as Watershed
Indian Drainage System
The Indian Drainage System is divided on various bases –
On the basis of discharge of water
Arabian sea drainage – 23% of the drainage including the Narmada, the Tapi and the Periyar system discharge their waters in the Arabian sea.
Bay of Bengal drainage – 77% of the drainage including Ganga, Brahmaputra Mahanadi etc. discharge their waters in Bay of Bengal
On the basis of size of watersheds
Major river basins – More than 20000km2 catchment area. For ex – Ganga,Brahmaputra, Krishna, Tapi, Narmada etc.
Medium river basins – Between 2000 to 20000 km2 catchment area. For ex – Kalindi, Periyar, Meghna etc.
Minor river basins – Less than 2000km2 catchment area. For ex – rivers flowing in the areas of low rainfall
The Indus System
It is the westernmost of all Himalayan rivers in India and it is also known as "Sindhu". It is one of the largest basins of the world.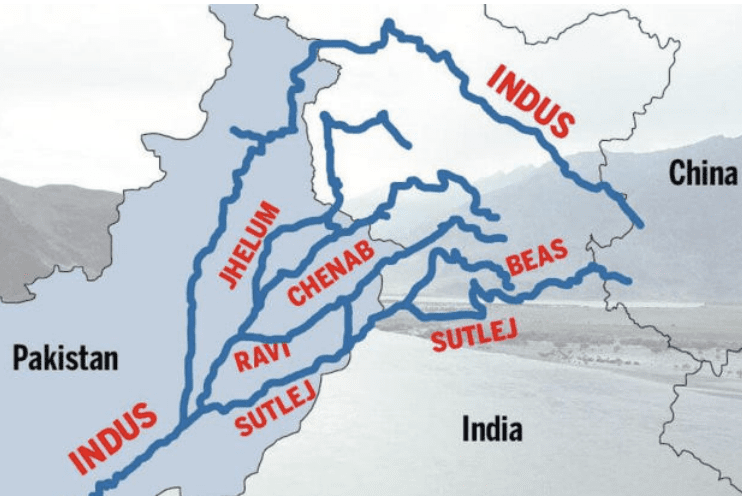 Origination – From a glacier near Bokhar Chu in Tibetan region in Kailash Mountain range.
In Tibet, it is also known as Singhi Khamban or Lion's mouth
In India, Indus flows through UTs of Jammu and Kashmir and Ladakh
It cuts across the Ladakh range, forming a gorge near Gilgit in J&K
It enters Pakistan near Chilas in Dardistan region.
After entering Pakistan, the river flows Southwards and receives "Panjnad" (Sutlej, Beas, Ravi, Jhelum and Chenab), near Mithankot.
It finally discharges into Arabian Sea, near Karachi.
Tributaries of Indus
Jhelum: Rises from a spring at Verinag situated at the foot of Pir Panjal range in J&K
It flows through Srinagar and Wular lake
It joins Chenab near Jhang in Pakistan
Chenab: Formed by two streams – Chandra and Bhaga, which join at Tandi near Keylong in Himachal
It is also known as Chandrabhaga
It is the largest tributary of Indus
Ravi: Rises West of Rohtang Pass in Kullu hills of Himachal Pradesh
It joins Chenab near Sarai Sindhu
Beas: Originates from Beas Kund near Rohtang Pass
It forms gorges at Kati and Largi near Dhauladhar ranges
It meets Sutlej near Harike in Punjab
Sutlej: Originates in the Raksas Talnear Mansarovar
It is known as Langchen Khambab in Tibet
It is an antecedent river
It feeds the canal system of Bhakra Nangal project
The Ganga System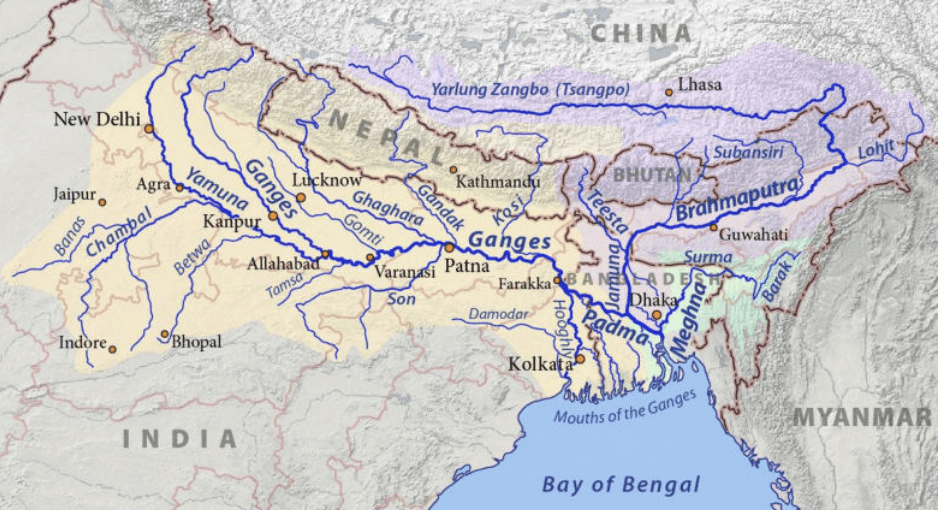 River Ganga rises in Gangotri glacier near Gaumukh in Uttarkashi district of Uttarakhand. Here it is known as "Bhagirathi".
At Devprayag, Bhagirathi meets Alaknanda from where it is known as Ganga.
Alaknanda originates from Satopanth glacier above Badrinath. It consists of Dhauli and Vishnu Ganga which meet at Joshimath or Vishnu Prayag.
River Pindar Joins Alaknanda at Karna Prayag Mandakini or Kali Ganga meets it at Rudra Prayag.
Ganga enters the plains at Haridwar
From here, it first flows South, then South-East and then to the East.
Total length of Ganga – 2525 km
Ganga flows through the states of Uttarakhand, UP, Bihar and West Bengal
It finally discharges its water into Bay of Bengal.
Tributaries of Ganga
Yamuna: Yamunotri glacier on Banderpunch range in Uttarakhand
It is the westernmost and largest tributary of Ganga
It is joined by Chambal, Sindh, Betwa, Ken on its right bank and Hindon, Rind, Sengar and Varuna on its left bank
It joins Ganga at Prayag in Allahabad.
Chambal: Rises near Mhow in Malwa Plateau in MP
It is famous for its topography called the Chambal Ravines
It joins Yamuna in Jalaun district of UP
Gandak: Rises in the Nepal Himalayas between Dhaulagiri and Mount Everest
It Comprises two streams – Kaligandak and Trishulganga
It joins Ganga at Sonpur near Patna in Bihar
Ghaghara: Rises in the glaciers of Mapchachungo in Tibet
Tila, Seti and Beri are its tributaries
It joins Ganga at Chhapra
Kosi: Rises in the North of Mount Everest in Tibet. Its main stream is Arun.
It is an antecedent river
It is joined by Son Kosi from the West and Tamur Kosi from the East.
It forms Sapt Kosi after uniting with Arun
It joins Ganga near Kursela in Bihar
Ramganga: Rises in Garhwal hills near Gairsain in Uttarakhand
It enters into the plains of UP near Najibabad
It joins Ganga near Kannauj
Damodar: Rises from Sonajuria falls in Chhota Nagpur Plateau in Jharkhand
Once known as "Sorrow of Bengal"
It is now tamed by the Damodar Valley Corporation
Meets Ganga at Shyampur in West Bengal
Sarda or Saryu: Rises in Milam glacier in Nepal Himalayas where it is known as Goriganga
Along the Indo-Nepal border, it is called Kali or Chauk, where it joins the Ghaghara Mahananda Rises in the Darjeeling hills -Joins Ganga in West Bengal
Son: Rises in the Amarkantak plateau in MP- It joins Ganga at Patna
The Brahmaputra System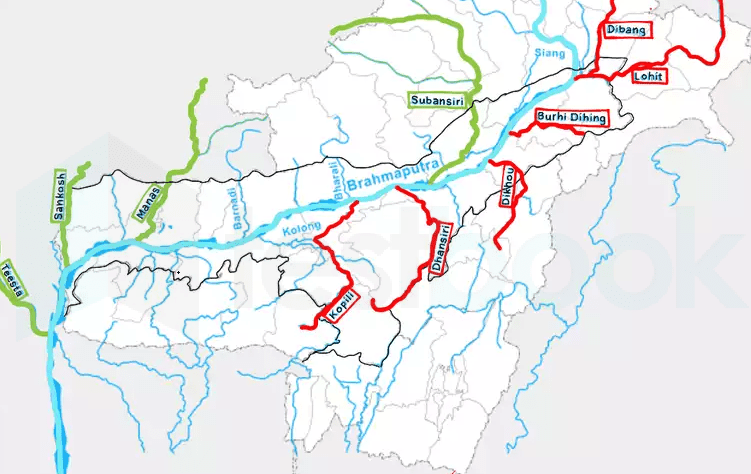 It originates from Chemayungdung glacier of Kailash range near Mansarovar lake in Tibet.
In Tibet, it is known as Tsangpo which means "The Purifier"
The Rango Tsangpo is the major right bank tributary of this river in Tibet
It emerges from the foothills under the name – Dihang or Siang
It enters India West of Sadia town in Arunachal Pradesh
Moving ahead from here, it receives its left bank tributaries; Dibang or Sikang and Lohit. From here, it is known as Brahmaputra.
It enters into Bangladesh near Dhubri and flows Southwards
In Bangladesh, it is joined by Tista on its right bank from where it is known as Jamuna.
It finally merges with river Padma which falls into Bay of Bengal
Left Bank Tributaries: Burhi Dihing and Dhansari
Right Bank Tributaries: Subansiri, Kameng, Manas and Sankosh
Brahmaputra is known for floods, channel shifting and bank erosion because most of its tributaries bring large quantity of sediments in its catchment areas
The Peninsular Drainage System
This system is older than the Himalayan drainage system. This is evident from the broad,largely graded shallow valleys and maturity of rivers.
Western ghats acts the water divide between the major peninsular river.
Most of the major peninsular river except Narmada and Tapi flow from West to East
Peninsular Rivers are characterized by fixed course, absence of meanders and non-perennial flow of water except Narmada and Tapi.
Mahanadi: Rises near Sihawa in Raipur of Chhattisgarh
It runs through Odisha to discharge its water into Bay of Bengal
53% of drainage basin of this river lies in MP and Chhattisgarh, while 47% lies in Odisha
Godavari: Rises in the Nasik district of Maharashtra
Largest peninsular river
Also known as "Dakshin Ganga"
Penganga, Indravati, Pranhita and Manjra are its principal tributaries
It splits into several branches forming a delta after Rajamundri in Andhra Pradesh
Krishna: Rises near Mahabaleshwar in Maharashtra
Koyna, Tungabhadra and Bhima are its major tributaries
Of the total catchment area, 27% lies in Maharashtra, 44% in Karnataka and 29% in Andhra and Telangana
Kaveri: Rises in Brahmagiri hills of Kogadu district in Karnataka
It carries water throughout the year because its upper catchment receives rainfall during S-W monsoon and lower part receives rainfall during N-E monsoon -3% of Kaveri basin falls in Kerala, 41% in Karnataka and 56% in Tamil Nadu
Narmada: Rises in Amarkantak hills -It forms Dhuandhar waterfalls in Jabalpur
Sardar Sarovar project is constructed on this river
It falls into Arabian Sea
Tapi: Rises from Multai in Betul district of MP -79% basin in Maharashtra, 15% in MP and 6% in Gujarat
Luni: Rises from Pushkar in two branches – Saraswati and Sabarmati, which joins each other at Govindgarh
It is the largest river system of Rajasthan
Entire river system is ephemeral